Add Some Zip to Your Mexico City Trip
Riding EcoBici in Mexico City is like eating a jalapeño pepper that looks deadly spicy, but isn't. At first, you worry it's going to kill you, but then nothing happens you relax and enjoy the ride. You enjoy it so much that you go back for more, again and again.
We speak from experience. In our last weeklong trip to Mexico City we took forty bites (EcoBici rides) covering about one hundred fifty kilometers total. Not only did we survive but we're better than ever. It was awesome. And here in this guide to using EcoBici in Mexico city is how you can have the same great time as we did.
What You're About to Learn About EcoBici in Mexico City
Click any link below to jump straight to that section of our guide to using EcoBici in Mexico City:
Ride or Die?
How to Decide if EcoBici Is Right for You
The first and most obvious consideration when deciding whether or not you should use EcoBici is your ability and confidence in riding bikes.
Going back to the jalapeño pepper analogy, if you're not at all used to spice (i.e. riding bikes in cities), you're probably best off not starting now. At the very least, only go on tamest possible routes, like Reforma during the Sunday Ciclovia or riding around Chapultepec Park. Don't jump in and get burned.
Another consideration is the weather.
Chilangos (people from Mexico City) joked to us that we were super lucky to have seven straight days of blue sky and heat because Mexico City's weather is so bad that summer lasts only two weeks. If the streets are full of puddles and forecast is grim, the convenience of EcoBici is not worth the inconvenience of having to dry-clean the mud and dirt off your clothes.
On a Roll
The Advantages of EcoBici
✓

It may be safer than walking

Mexico City's sidewalks are treacherous. We stumbled and tripped countless times on the uneven bricks, protruding roots, and camouflaged curbs. The bike paths and roads are smooth and safe in comparison.
✓

The streets are surprisingly quiet

What surprised us most about using EcoBici is we barely encountered any of the crazy drivers and horrible traffic Mexico City is infamous for. Most of the streets we biked on were completely empty and the busy ones we rode on often had separate lanes either entirely for bikes, or for bikes and buses only.
✓

Drivers respect cyclists (!)

In our hometown of Vancouver, automobilists treat us cyclists like pigeons. They blame us for all the roads the City has converted into bike lanes, scream at us, and try to scare us off the road. Mexico City drivers, on the other hand, were more like old ladies that give pigeons food. They were careful not to scare us away, gave us right-of-way, and slowed down for us at intersections.
✓

It's often faster


When we hit gridlocked traffic, we could speed by it by either using the sidewalks or weaving through the poor suckers in their cars. And when we confronted one-way streets, we could avoid detours by going a block or two the wrong way up them. We weren't being renegades; all the bikers did so.

Speaking of rules all the bikers in Mexico City break, they also treat red lights like yield signs. You just stop, look, and if the road's clear, cross the street. Some cars, especially taxis, do the same, but your Uber or bus driver won't.

All these things often make it faster to ride EcoBicis around Mexico City than drive, walk, or take public transit.
✓

It's immersive

When you're on a bike you can smell the taco stands, hear the music coming from the houses, and feel what life in Mexico City's really like. And whenever you come across a particularly interesting shop, piece of street art, or photo op, you can easily stop and appreciate it.

While you get these same benefits from walking, you cover more ground on a bike, increasing your chances of discovering cool things.
✓

Off-the-beaten-path attractions are more accessible

Related to the previous point, EcoBici makes all of central Mexico City more accessible.

Some of our favorite spots—like Fonda Margarita, La Pirata Pulqueria, and Marukoshi Bakery—were out of the way relative to Mexico City's main attractions. They were too far to walk, and we probably wouldn't have thought it worthwhile to take an Uber there and back just to check them out. But with EcoBici they were quick and easy rides that, as an added bonus, allowed us to explore untouristed parts of town along the way.
Expect Turbulence
The Downsides of EcoBici
✗

Bad vibrations

Some roads—especially in Mexico City's historical center and through Chapultepec Park—are a bike-unfriendly cobblestone that will have you vibrating with aftershocks even after you park your bike.
✗

Maintenance issues

Overall, Mexico City's EcoBici bikes were better maintained than those of any other city's bike share program that we've used before. The tires were always pumped and the brakes always worked. But the gears and chains were sometimes noisy, finicky, or jumpy.
✗

A bum steer

Map apps and the EcoBici app aren't always perfect at giving you the best directions. Plus, they're hard to follow at the same time as riding your bike. Expect to get a bit lost or turned around every once in a while.
✗

Limited range


Some Mexico City neighborhoods you'll probably want to visit, like the Merced Market, Santa Maria la Ribera, and Coyoacan, don't have EcoBici stations. You'll have to park your bike at stations nearby, then walk into and around those areas.
✗

You could die


EcoBici doesn't provide helmets and you're sharing the roads with bigger and faster moving vehicles. There's always a risk of injury or worse, so be cautious.
Feeling Electric?
Using EcoBici's Electric Bikes
Signing up for EcoBici also comes with the opportunity to use electric bikes around the city.
The steps for taking out and returning the electric bikes is the exact same as for the regular bikes and there's no extra cost. You just have to pick them up and drop them off at the electric EcoBici stations, which are fewer and farther between than the regular ones.
Don't get too excited about a turbocharged ride. The electric bikes do nothing to boost your top speed. They only help with accelerating and going up hills. It feels like someone behind you is giving you a gentle push from behind.
Because of the limited electro-EcoBici stations, you'll almost always want to stick to using regular EcoBici bikes, but definitely give the electric ones a try at some point. They're particularly good options for longer rides like the two we recommend in the following section.
Recommended Rides
Mostly, we recommend riding anywhere and everywhere within the city, but if you're in Mexico City on a weekend here are two sweet rides to consider:
Saturday to Coyoacan then San Angel
Coyoacan is a southern municipality that has a completely different feel from the rest of Mexico City. It's a small town swallowed up by the big city. Despite being overwhelmingly busy with tourists and locals on Saturdays, it's worth going to.
The bike ride to Coyoacan from Roma, Condesa, and other parts in Central Mexico City is about 9 km / 5.5 mi. It's not particularly beautiful, but it's easy and almost entirely along one road, Avenida Division del Norte, that has it's own bike lane and isn't too crazy busy. You'll peddle through various Mexico City neighborhoods that aren't on the tourist map.
As we shared in the downsides of EcoBici, there are no stations in Coyocan itself. Instead, park your bike by Marukoshi Bakery, reward yourself with some cheap and yummy Japenese pastries, then walk from there into Coyoacan (about ten minutes).
Explore the neighborhood, then saunter along the mansions of leafy Francisco Sosa Avenue towards the San Angel neighborhood. On Saturdays, the Bazaar Sabado, a high-end artisanal market is open. Get some souvenirs, eat a cup of mango, jicama, or coconut slathered in chili, and enjoy the hustle and bustle. Then, when you've had enough, instead of biking back take the Metrobus up Insurgentes to return to the center of town. (If you're unfamiliar with using the metro or Metrobus, this guide by Northern Lauren will help you out.)
Sunday Ciclovia on Reforma
From 8 a.m. to 2 p.m. every Sunday, one of Mexico City's biggest thoroughfares, Paseo de la Reforma, is closed to cars and opened for the exclusive use of cyclists, pedestrians, and rollerbladers. Hordes of people take advantage of this, and you should too.
It's a people-watching extravaganza with all sorts of activities, Zumba classes, and free samples going on along the side of the road.
Cruise up and down Reforma, enjoying the hubbub and the lack of cars. Just don't forget to swap bikes every forty-five minutes to avoid extra charges (click here to jump down to the section with more info on this).
Around noon, park your bike at the northernmost EcoBici station, which is just south of Buenavista Station and Biblioteca Vasconcelos (which is worth popping your head into). From there you have two options.
The first option is to walk over to the Santa Maria la Ribera, which some say is "the next Roma." In other words, it's a traditional, previously neglected neighborhood that hipsters are starting to take over. When there, get a pozole from La Casa de Toño.
Your second option is to take a forty peso Uber ride (it's not worth the walk) to Los Machetes Amparito, where you can eat one of their ludicrously long (60 cm / 2 ft) quesadillas. From there walk straight down Calle Heroes to the Centro Historico. The neighborhood you'll walk through, Guerrero, isn't the best place to be at night, but during the day it's a lively, authentic area that's worth a wander.
How to Sign Up For EcoBici in Mexico City
⭐️ Heads Up: A reader named Steve mentioned in the comments that signing up has been simplified, so not all these steps may apply anymore.
1. Get cell phone service
While it's possible to use EcoBici without a cell phone, we advise against it. You'll want to use the internet on your phone to help you find the best routes through Mexico City and to use the EcoBici app to find the nearest stations to pick up and park your bike.
It'll cost about 50 pesos for you to get a sim card and roughly another 100 pesos for every 600 MB of data. You can get sim cards and top-ups at corner stores in the airport and throughout the city. For more info, see our post on Mexico City travel tips.
2. Sign up for EcoBici online.
Signing up for EcoBici is relatively easy to do online. Click here to start.
One thing you'll notice is that even if you select "English," many fields remain in Spanish.
For "Ocupacion" just pick whatever available occupation you dream you had. "Astronaut" is not an option.
Under "Datos de Accesso" input any 4-digit number for your PIN. You'll need this pin every time you pick up a bike from an EcoBici station.
For "telefono fijo Mexico," which is your fixed phone number, just put your cell phone number. Then put it again in the "Celular Mexico" field. It doesn't matter if the number is Mexican or foreign.
Under "En caso de emergencia avisar a:" put the name of your emergency contact in the first box, your relationship to that person in the second, and their contact phone number in the next two.
On the next page, you'll need to input credit card information to pay. Here are the prices as of 2018:
104 pesos for 1 day
208 pesos for 3 days
346 pesos for 7 days
462 pesos for a whole year (Note: If you choose this option, you have to pick up a card from the office. See Tag Along Travel's guide for more info.)
3. Get your username from your email
Once you've signed up and paid, you'll get a welcome email with a username and passcode. The username is an automatically-generated 6-digit number and the passcode is the 4-digit PIN you chose at signup. You'll need both to take out a bike from stations around the city.
4. Download the free EcoBici app
The app will help you find the nearest stations to you for picking up and parking your bikes. It's available on Android (here) and iOS (here).
5. Sign into the app
To sign into the EcoBici app, you need to use the same 6-digit username but, confusingly, a different password from the 4-digit one you'll use for taking out bikes.
To get this password, go to the "User Sign In" page of EcoBici website (here) and click "¿Has olvidado tu contraseña?" (Have you forgotten your password?) Type your 6-digit username and the email address you signed up with, then check your inbox for an email with the password to sign into the app. Our emails went into our spam folders, so look there if you don't see anything in your inbox.
How to Use EcoBici in Mexico City
1. Find the nearest station
Use the EcoBici app to find the nearest station to you.
If the station is red that means there are no bikes available. Orange means the station is running out of bikes (four or less). And the plug symbol represents stations with electric bikes. (Yes, you can use the electric bikes too. See the "Feeling Electric?" section above.)
Before taking out your bike, find the nearest station to your destination and map out the route. You can choose to do this on a separate app like Google Maps, or on the EcoBici app itself. To get directions on the EcoBici app, tap the station you want to go to, then tap the purple icon with the flag on the top left.
2. Take out a bike
At one end of the row of bikes, you'll find a terminal. There:
Input your 6-digit username and press the green button
Input your 4-digit passcode and press the green button again
Wait a few seconds then look at the big screen above the keypad to see which bike has been assigned to you
Go to that bike and pull it out of the station. You have two minutes to do so. Change the seat to your desired height and take off.
Don't be stupid like us: Some of these terminals have two screens. One is for signing up for EcoBici and the other is for taking out bikes. We didn't realize this at first, tried taking out a bike from a signup screen, though it was broken because it didn't work, and stupidly walked to the next station.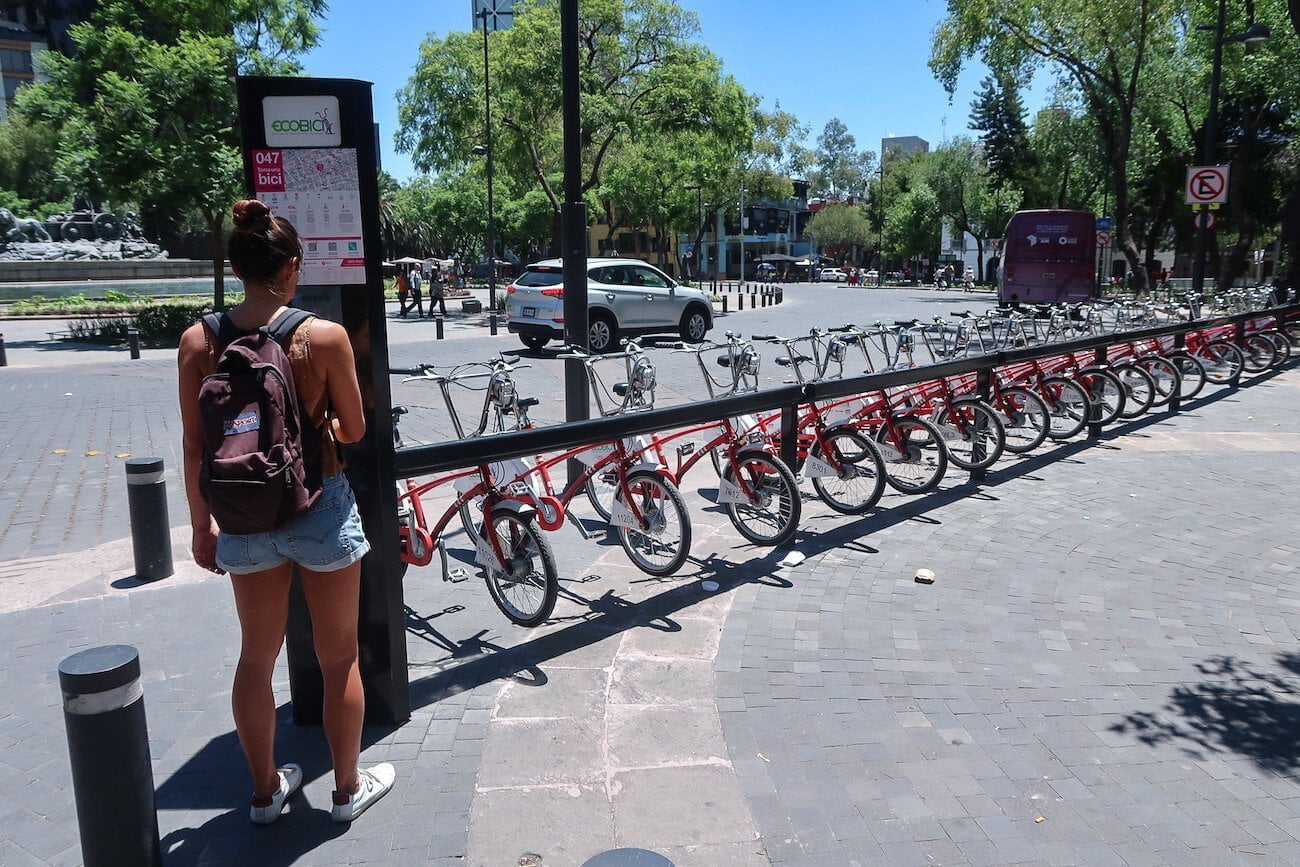 3. Ride to the station nearest to where you're going and park your bike
You have 45 minutes to drop off your bike at any EcoBici station. If you return your bike between 46-59 minutes later, your credit card will be charged 12 pesos. Every hour after that costs an additional 36 pesos.
You probably won't ever need a single ride of more than 45 minutes, but if you do and don't want to pay extra fees, drop off your bike at a station within the time limit, wait two minutes, then pick up a bike again from the same station and your 45 minutes countdown will start fresh.
Parking your bike is easy. Drop the two knobs underneath the basket on the front of the bike into the holes of any empty parking spot. Wait for a second, jostle the bike to make sure it's locked, and you're done!
More Local, Loco, and (Not) Low-Cal Mexico City
This EcoBici guide was just Part 4 of our 5-Part Local, Loco, and (Not) Low-Cal Mexico City series.
Roll on over to our other posts in the series to get every last tip and come prepared for your trip: