Khao Sok National Park Dos and Don'ts
Khao Sok National Park is 160km north of Phuket on the mainland of Thailand. It's a stunning area with impressive karst geography and lush tropical rainforests full of giant bamboo and liana trees. While hiking in Khao Sok you'll hear cicadas humming, encounter giant praying mantises and spiders, and get close to cheeky monkeys going crazy for fungi.
The park is also reportedly home to white-handed gibbons and Asian elephants, but the only elephants and gibbons we saw were on cheap t-shirts in town.
We came to Khao Sok to go hiking and swim in jungle waterfalls. We succeeded in doing so, but it wasn't without its challenges, which I'll share with you here. If you're thinking of hiking in Khao Sok, here are 3 things to do, and 3 not to do.
3 Things Not to Do in Khao Sok National Park
1. Don't pay for a taxi from the bus stop.
The journey from Phuket to Khao Sok takes about 2.5 hours by local bus. From the bus stop you'll want to get a ride for the last couple kilometers into town. Avoid unnecessarily paying for a taxi, as we almost got suckered into doing. Instead, tell them you have a reservation and ask for the truck there that'll drop you off at your place for free (… for you. The hotel owner will pay).
2. You don't need to hire a guide for hiking in Khao Sok
Every hotel and tout in town, and even signs in the park, will tell you it's mandatory to hire a guide.
It's not.
They just say so to support guides and take a cut for themselves. And, in further support of the tour guide mafia, the rangers at the visitors center are unhelpful, unfriendly, and give you borderline useless maps meant to confuse you. Don't be deterred. If you prefer to explore on your own and don't mind getting a bit lost from time to time, you'll have no problem hiking Khao Sok without a guide.
Tip: Use Maps.Me to follow the path with GPS. The app is free and works offline. In the comments below, Melissa mentioned she used it to successfully get to Sip Et Chan and back.
3. Don't be a blood donor to the leeches in Khao Sok
After paying the 300 baht park entrance fee (avoid paying guides if you wish, but don't try avoiding to pay this), we decided on the shorter but more challenging hike to Sip Et Chan Waterfall. It seemed like an easy, adventurous day hike.
But we didn't finish it.
Chris had read that leeches were abundant during the wet season. Since it was technically the dry season we didn't think it would be a problem. It's only a couple leeches anyways, right?
Wrong. Very wrong.
I had no idea leeches lived on the ground. My only memory of leeches were those in water, and mainly from movies. The leeches along this trail were small, quick, and had an uncanny ability to get into our shoes and under our socks. Take it from me: they're unavoidable.
I don't know if I'm particularly sensitive when it comes to leeches but I couldn't handle the constant stress of wondering if another was on me sucking my blood. It was miserable, so I turned back. If I want to donate blood, I'll do it back home for a good cause. Not here in Khao Sok.
Chris, disappointed to give up on Sip Et Chan Waterfall, followed me back. He didn't see the big deal. Then he took off his shoes and socks and found at least 15 little suckers on his feet. He nonchalantly plucked them off. Big mistake!
Don't rip leeches off of you!
It'll leave you like Chris, suffering from super itchy wounds that won't stop bleeding for weeks. Follow these instructions instead.
3 Things to Do in Khao Sok National Park
1. Hike to Ton Kloi waterfall instead of Sip Et Chan Waterfall
Leech-free but with bloodstained socks, we returned to the trailhead to start anew on the more conventional Khao Sok hiking path to Ton Kloi waterfall.
The 4.5 km walk to the first waterfall, Bang Hua Rat, was moderately flat and easy. It was also a bit slippery and muddy but, most importantly, it was leech-free.
From Bang Hua Rat to Ton Kloi the path was decidedly less well marked and more difficult to navigate (i.e. we got turned in circles a couple times). Much of it is walking up a stream. Don't bother trying to avoid getting your feet wet. You'll have more fun and move faster slosh along in the water. Just wear shoes you don't mind getting soaking wet.
Speaking of fun, there are impressive Liana trees with spiraling, long hanging branches that resembled thick ropes. Some of them were over thirty feet long… perfect for swinging!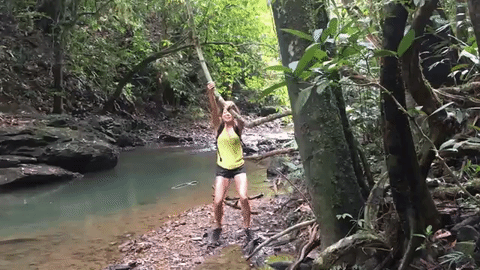 It took us about 2 hours to hike the 7 km to Ton Kloi waterfalls.
The waterfalls exceeded our not-very-high expectations. They are in a sunny spot with nice big flat rocks to lounge on.
Chris went for a dip and had little fish biting his legs, just like they do at the fish foot spas. These little fish were hungry. And so were we. We ate the bagged curry and stir-fry lunch we'd picked up from a street stall before the hike while enjoying the soothing sounds of rushing water.
After lunch, we explored further up the stream in search of another waterfall beyond Ton Kloi that a couple we'd passed by earlier had told us about. We found nothing of interest, though, so we turned around and made it back to the beginning of the trail within 1.5 hours.
It was a fun hike with a rewarding waterfall, very few others on the trail, and, again, almost no leeches. Because of the last point, if you're trying to decide between hiking to Ton Kloi or Sip Et Chan waterfalls our recommendation would be Ton Kloi.
[2019 Update: In the comments below, Melissa shared that she hiked Sip Et Chan and it was "amazing" and that they were the only ones on the trail, so don't completely write it off as an option, especially if you go later in the afternoon, when she says the sun scares away the leeches.]
2. Enjoy a brew and bath at the picture-perfect post-hike sunset spot
Back into town after hiking in Khao Sok National Park, we grabbed a couple large Singha beers and walked 10 minutes or so to Art's Riverview Lodge. Art's sits right on the river, where there's a little swimming hole with an impressive limestone backdrop. The place is open to the public, so we sat on the rocks and watched local Thai kids rope swing into the water and play some bizarre game that involved spitting on each other.
It's an awesome place to rest your legs after a long day of hiking, drink some refreshing beers, and take in the sunset.
3. Stay in Khao Sok Palmview if you're looking for cheap, convenient, and comfy
We stayed in a private bungalow Khao Sok Palmview, which we'd booked in advance for a cool 750 baht/night ($21 US). The long, bumpy truck ride in had us worried that the place was inconveniently far from the center of town, but the manager showed us a shortcut that got us to the main drag in town in under 5 minutes walking. It's unmarked and unlit, so bring a flashlight!
Khao Sok Palmview was moderately clean and quiet. It's in the middle of an isolated palm plantation, which for some reason made us feel we were in an eery scene from True Detective. If you can stay for the price we did, don't bother looking elsewhere.
While they serve food at Khao Sok Palmview, you're better off heading into town to eat. Our favorite place was Lad Roi-Et (ask around for directions).
Update: Reader Andrea shares in the comments that Coco Khao Sok is another great option, with A/C for $6 per person. Check it out, too, if you're looking for a cheap place.
Bonus Tip: Get on a bike and explore.
If you're tired of hiking in Khao Sok, rent a bike in town and explore. We got unlucky with the weather which made for a pretty wet ride as you can tell, but we still enjoyed our day out.
We drove up to Cheow Lan Lake to take in the views. We didn't think it was worth spending money on the boat tour, but on a nice day with friends, I'm sure it would make a lovely afternoon.
We also took the back route back to town passing by local villages and a ton of rubber tree plantations.
Be sure to stop by the limestone cliffs as well, which are hard to miss right off the highway as you make your way to Cheow Lan Lake.
---
Now It's Your Turn
Enjoy your time hiking in Khao Sok! If you found this guide helpful, please make it even more helpful by sharing your own experiences in the comments below. Or ask us questions so we can improve it.
And if or whenever you head back to Bangkok and are looking for some exercise, consider going to Lumpini Park's outdoor gym. Then afterward go to eat at one of our favorite restaurants for exotic food in Bangkok.