Visit "a la Valenciana"
Valencia is not as popular as Seville or Barcelona for good reason.
It doesn't have the romantic beauty, Spanish pizazz, or historical atmosphere that will knock your socks off. But then again, you don't need socks in Valencia in the first place. It's that type town: casual, comfortable, and cozy-climated.
It's a surprisingly big city that doesn't know it yet—an amalgamation of once separate villages that are now bridged by an unphotogenic but not-unfriendly sprawl of 6-to-8 story apartment buildings. And everything's connected by maybe the best city park in the world: the dried-up riverbed called the Turia.
Altogether, this makes Valencia supremely livable. Or, if you're just visiting, supremely easy to enjoy life "a la valenciana" for a few relaxing days.
So if you rather not race the masses from one tourist highlight to the next, here are some tips for visiting off-the-beaten-path Valencia.
Quick Facts
| | |
| --- | --- |
| Languages: | Spanish and Valenciano |
| Population: | 800,000 (1.5 million metropolitan area) |
| Location: | Halfway down Spain's Eastern Mediterranean Coast |
| Area: | 134.65 km2 (51.99 sq mi) |
| Country Code: | +34 |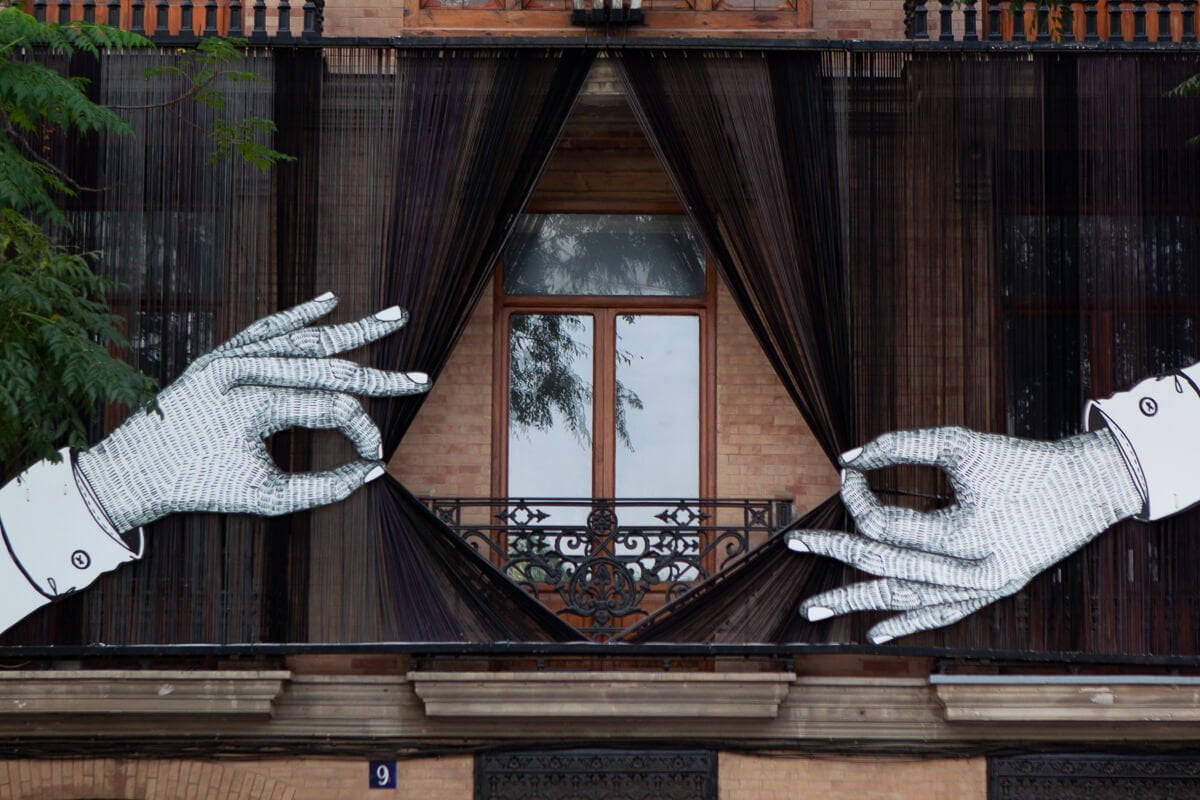 Valencia Off-the-Beaten-Path City Guide Outline
Activities
Practicalities
Valencia's Beaten Path
The best way to understand how to visit off-the-beaten-path Valencia is to know what isn't off-the-beaten-path:
Badly-Beaten
Plaza de la Virgen, Plaza de la Reina, Plaza Redonda, and Plaza Ayuntamiento.
Torres Serrano, Torres de Quart, and La Lonja, on Sundays, when they're free.
The southern end of Malvarrosa Beach.
The Central Market and adjacent restaurants after 10 a.m.
Calle Caballeros, El Carmen's oldest street.
Well-Trampled
Ruzafa. The default language is English in this hip neighborhood where seemingly every young expat in Valencia lives.
El Carmen's Plaza del Tossal in the evenings.
Popular but Un-Beaten-Down
Turia Park. The tremendous park is too big and popular with everyone—tourists and locals alike—to lose its appeal.
Valencia's other beaches. Similar to the Turia, the miles of broad beaches north of the touristy southern section are too big to be overriden with tourists.
The City of Arts and Sciences. Because of the distance from Valencia's city center and the size of the area they cover, they never feel too busy.
Related Read: Avoiding Tourist Travel Valencia. A longtime British expat's very cynical anti-Instagram influencer post on overrun Valencia attractions.
Off-the-Beaten Path Things to Do in Valencia
If you're visiting more than just Valencia, read How We Stumbled Off the Beaten Path in Spain for some ideas and inspiration.
Beat the Crowds to the Beaten Path
As long as you do this self-guided walking tour "early" in the morning—in Spain that means before 10 a.m.—you'll have Valencia's streets and main attractions nearly all to yourself.
Plaza de la Virgen. Admire Valencia's Cathedral and the Neptune statue.
Palacio del Marques de Dos Aguas. Walk by to see the extravagant facade.
Central Market. Grab a coffee at Retrogusto. Buy some chufa to try it. (Opens at 7:30 a.m.)
Plaza del Ayuntamiento. Go inside the City Hall (it's free and opens at 8:30) to check out the Salon de Cristal and the Hemiciclo.
Estacion del Norte and Plaza de Toros.
Gran Via. Valencia's most elegant boulevard.
Mercado de Colon. Another place to grab a coffee or a horchata.
La Glorieta Park. Amazingly large ficus trees planted in 1852.
Puente de las Flores. Bridge with endless flowers all year long.
Here's the walking route on Google Maps.
Attend Special Events
Whether it be beer and wine festivals in and around town, free concerts in the Turia, jazz in the Plazas, or the Noche de San Juan at the beach, Valencia always seems to have some special event going on.
Search Facebook's events calendars and ask at the Valencia tourist office what's going on when you're visiting.
Bike the Best Loop
We biked a lot in and around Valencia and found this to be the best route for people short on time:
Starting from the city center, go north to the town of Alboraya.
Briefly explore the town's streets then taste some fresh farm-to-table horchata at Horchateria Vida.
Peddle on to Restaurante Les Tendes for lunch (reserve in advance!).
Tour Valencia's "little Venice" of Port Saplaya.
Cruise back down the coast past Patacona and Malvarossa Beaches, stopping at la Fabrica de Hielo for a beer.
Pass by the City of Arts and Sciences and return to the city via the Turia.
A lot of stuff right? But it's all packed in only 25 kilometers of flat, easy cycling.
Here's the route on Google Maps.
Tip:
Rent from Rent Bike Virgen. Contrary to their name, the Italian family that runs the shop is very experienced at renting bikes.
Try These Things to Do in Valencia on Sundays
Sundays everywhere in Spain are dead because pretty much everything but churches are closed.
Three things to consider doing are:
Explore the street art around El Carmen. Sundays are the best day because the closed shops' rollup gates reveal artwork that's otherwise hidden during the week.
A bike ride like the one mentioned above.
Join the freeloading masses who teem into the many Valencia attractions and museums like la Lonja de La Seda, The Serranos and Quart Towers for the one day of the week you don't have to pay €2 to get into them.
Hang Out With Valencia Expats
If your Spanish is limited to, "Una cerveza por favor," this is a good option to connect with locals. Local expats, mostly, but still locals.
The Valencia Coffees & Co-Working Facebook group organizes regular meetups, Foodies Savor Valencia does monthly restaurant meetups for the boomer crowd, and the community on Valencia's two Facebook expat groups—Expats in Valencia and Valencia Expats—are always open to welcoming newbies with a drink or coffee.
Visit a More Natural Beach (au Natural, if You Wish)
For a more off-the-beaten-path beach with crystal clear water, go to Albufera Natural Park. Behind the flamingos of the Estany de Saler pond and beyond the small sand dunes are some calm, natural beaches.
And if you forgot your bathing suit, head a kilometer or so north to the nude beach.
More Natural Escapes
Wander Valencia's Distinct Neighborhoods
All of Valencia is safe to explore, so wander around to appreciate the different neighborhoods.
Cabanyal: This slightly run-down neighborhood behind the beach feels completely different from Valencia.
Aragon and Benimaclet won't floor you with their beauty, but if you partake in the casual drinking takes place on every corner bar, you may end up on the floor.
Rusafa is well on the beaten path, as mentioned, but for good reason. Cross Avenida Regne de Valencia for some good and affordable lunches in one of the city's ritzier neighborhoods, Gran Via.
Eating and Drinking
Menu del Dias
Menu del dias are daily lunch specials that always include a starter, main, dessert, and bread. They also usually include a drink (wine, beer, soda, or bottled water) and sometimes include even more starters and a coffee.
Here's a selection of Valencia's best menu del dias:
The Overall Best: Restaurante 64. For €10.90 you get three starters, a drink, main, dessert, and coffee. Every week the menu changes. Some of the experimental dishes are hit or miss, but even when they're a miss the meal's the best value you can get.
Solid Stomach Stuffers: El Trobador (classic Spanish) and Di Fredo (hearty Italian) will both fill you up for a very fair €10.
Worthy Semi-Splurge: Forastera's fabulous, farm-fresh, €15 menu (no drink included) was Kim's favorite Valencia menu del dia.
Choose Your Own: The Gran Via neighborhood east of Ruzafa and west of the Turia has a gaggle of good menu del dia offers for you to choose from.
We share more info and more tasty spots in our Where to Eat in Valencia blog post and on our Valencia Food & Drink Treasure Map.
Paella
Since paella originates from Valencia, most consider it a must-try while in Valencia.
If you do too, you must not get it anywhere in the city center (to be safe) and never in the evening.
Your best bet is to go straight to the source and get your paella in El Palmar, a 45-minute bus ride south of the city. Everyone you ask will have a favorite paella purveyor there. Ours is Restaurante Pasqualet.
Money-Saving Tip: To stretch your Euros and your stomach to the max, eat a small breakfast, a mega menu del dia, and some tapa-sized snacks (or supermarket gazpacho and Spanish omelet) for dinner.
Tapas
We have the unpopular opinion that tapas are overrated. They're too often hastily-prepared, unexceptional-tasting, and tepid, less-than-great-value, and consumed in uncomfortably over-crowded spaces.
But most would disagree.
Go tapa bar hopping in El Carmen, Rusafa, or Benimaclet yourself, try some of the following, and let us know your opinion :
Pimientos de padron. Fried green peppers with sea salt. They look like they could be spicy, but they're not.
Chipirones. Mini calamari.
Esgarraet. Thinly-sliced grilled pepper and cod in oil.
Clochinas al vapor. Steamed local mussels.
Champignones. Fried mushrooms often served with herbed oil
Patatas bravas. Crispy fried potato chunks served with a garlic aioli and tomato barbecue sauce. Every place has its own twist. Some say you judge any restaurant or tapa bar by its bravas.
Sardinas and anchoas. Usually served fried with fresh herbs
Tortilla Espanola. Classic Spanish potato and onion omelette
Horchata
Made from a tiny tuber called tiger nut ("chufa" in Spanish), Valencian horchata tastes like a sweeter, creamier, almond milk. And it's healthy if you don't dump sugar into it.
Horchata has a short shelf-life, so go to the chufa farms of Alboraya for the best and freshest. Horchateria Vida was our favorite.
Alcoholic Drinks
Vermuth: Under-appreciated by tourists, but not by locals who seem to treat every waking moment as "la hora del vermut."
Valencian Wine: Try some different grapes from the nearby wine regions like Bobal and Merseguera.
Agua de Valencia: A Valencian mimosa with gin, vodka, cava (Spanish champagne), and orange juice.
Beer: Valencia has a fair number of microbreweries. Compared to wine, it's costly.
Tap Water
It's safe to drink, but it tastes gross. Some can stomach it. Others cannot. No restaurants serve it.
When to Visit Valencia?
The worst time to visit Valencia is August. Tourists arrive in full force but locals escape just as forcefully. Many of the best restaurants and cafes will be shuttered and you'll be shuddering at the thought of stepping out of the comfort of your A/C to brave the heat.
March is either the best or the worst time to visit Valencia because of Las Fallas. If you're willing to brave a crush of crazed pyromaniacs, you won't want to miss it. If you're claustophobic and pyrophobic, stay far away.
Otherwise, you can't go wrong. No month of the year has more than five days of rain and the average high never drops below 16°C / 60°F.
How Many Days to Stay in Valencia
The appropriate amount of time for someone who's got other things to do (like a real job) and visit (like the rest of Spain) is three days.
Three days would give you time to do the following:
Three-Day Valencia Itinerary
On day one, beat the crowds to wander the city's main attractions in the morning, scarf down the calories you burned with a menu del dia, have a siesta, then go out to Benimaclet for an evening of tapas and drinks.
On day two, do the best bike loop we'll outline under Valencia things to do. Go to Ruzafa in the evening if you still have energy.
And on the third day, follow your interests to fill in the rest. Go to Albufera for paella. Visit whatever museums suit your fancy. Play on Gulliver. Or just have a typical Valencian day with a desayuno, almuerzo, menu del dia, siesta, and tapas.
Getting Into Valencia
Plane
Valencia Airport is 9 km / 6 mi northwest of the city center and easily accessed by metro (€3.90). Taxis cost €25 to €30.
Train
High-speed trains arrive in the South of central Valencia at Joaquín Sorolla Station. From there you can walk (1.2km to Ruzafa), take the metro from Jesus station to most parts of the city, or grab one of the dozens of taxis that will be waiting for you.
Getting Around Valencia
Walk
There's no better way to get around Valencia city center's cobbled streets. Biking is bumpy, taxis are restrained by pedestrians and one-way streets, and there are no metro stops.
Plus it's super safe.
Tip: Don't worry about jaywalking. Everyone does it here.
Public Transport
Single rides cost €1.50 so you can likely save money by buying a 10-ticket "Bono Transbordo" pass for €9. Multiple people can use the same pass.
Bicycle
Valencia's vast network of dedicated bike lanes, Tuira Park, and absolute lack of hills makes it ideal for exploring by bike.
Your best bet is to rent a decent city bike for around €9 a day. We recommend Bike Rent Virgen.
We don't generally recommend the Valenbisi shared bike system for short-term visitors to Valencia. It costs €13.30 for 7 days of unlimited 30-minute rides, but a 30-minute ride on the heavy bikes takes only 15 minutes on a better bike rented by day.
Car
Don't.
Given tiny one-way streets, impossible parking situation, and solid bike lanes and public transit, it's not worth having a car in Valencia.
Rent a car if you're doing a day trip, but return it before entering the city.
Where to Stay in Valencia
Even if you want to do off-the-beaten-path things in Valencia, we wouldn't recommend staying too far off the beaten path. You won't save much money and you'll cost yourself in inconvenience.
The best area for ultimate convenience…
Stay close-ish to Turia Park in Valencia's Old Town.
That means north of Colon station, east of the Mercado Central, and south and west of the Turia.
This keeps you close to the tram to the beach, Cabanyal, and Benimaclet, within walking distance of everything, and in the middle of many restaurants and activity.
The Caro Hotel is in the perfect location and has mostly perfect reviews, but it comes at a price. "Caro" means expensive in Spanish, after all.
Airbnbs in this area we zoomed into.
Home Hostel is a bit farther than ideal from the metro (for getting in and out of town), but once you're there the location is ideal for exploring the city.
The best place to stay for a beach vacation…
Stay in Cabanyal.
Be warned that it's far from the city center. Some might be put off by the run-down residential areas, too. But if you mostly want to hang out on the beach, it's fine.
The best local locale…
Stay around Aragon station.
The area lacks in charm in an authentically Valencian way. It has a convenient location between the city center and the beach and adjacent to the Turia.
---
Like this post? Pin it for later!
Read This Next: